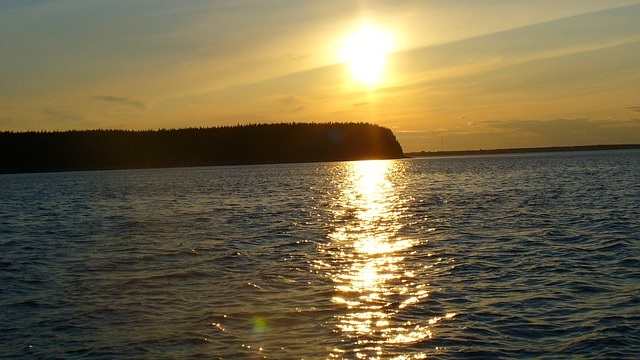 While most of the East coast is bracing for the cooler months ahead with getting the sweaters and snow boots ready for action, here in the Clearwater and Tampa Bay area we are blessed with warm temperatures throughout fall. This means that outdoor living and recreational activities can be enjoyed almost year round, including dips in the pool. Even though we are fortunate enough to have mild temperatures moving into autumn daylight will still begin to dwindle as night arrives earlier.
As the seasons change so does the amount of day vs night. Though it may seem simple, in theory the entire concept of night arriving earlier as we move into the fall and winter months is quite scientific. Although the earth might look flat, if you look at it from outer space, it's a big sphere. But it's not straight. It's actually a bit crooked, and the amount of tilt is actually about 23.5 degrees. This means that part of the earth is tilted towards the sun, and part of the earth is tilted away from the sun. On one part of the orbit, the top of the earth is tilted towards the sun, which is our summer. This is when days are the longest. Further round in its orbit, the earth will be pointed away from the sun. This is our winter, and the days are a lot shorter. Therefore, the length of the day boils down to how angled our planet is in space.
With these seasonal scientific changes in mind, combined with our region remaining warm enough to enjoy backyard water recreation, what is a homeowner to do when their pool area is dark, dangerous and uninviting to the would-be Leisel Jones' or Micheal Phelps' in your home?
The answer is Clearwater & Tampa Bay water feature lighting — of course!
We are the area's leading outdoor lighting specialists, with the experience, skills and professional training in the proper way to design water feature lighting. Our successful lighting designs for water features like pool surrounds, waterfalls, koi ponds and water fountains in the landscape enhance visual interest AND increase the function in and around your water feature giving you year-round enjoyment of these special amenities on your property.
Professional pool lighting and landscape lighting in your backyard gives you freedom to swim, soak in the spa or enjoy a good book while your waterfall trickles in the background well into the night. In addition to its aesthetic benefits, outdoor lighting is extremely functional, such as illuminating a pool for swimming, adding task lighting to your pool cabana or delineating a pathway. Our lighting is designed to make you feel more safe and secure. Outdoor Lighting Perspectives of Clearwater & Tampa Bay professional services and high quality fixtures can do all of this and more, while expanding your home's living space and turning up the ambiance too!
If you are ready to extend the time your water feature can be enjoyed, we are here to assist you. As the area's premiere upscale outdoor lighting company we are your first choice for design and installation poised on making the most out of your home, landscape and outdoor living areas all year long.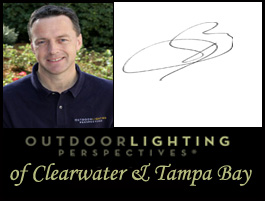 Contact Outdoor Lighting Perspectives of Clearwater and Tampa Bay today for a free consultation. You can reach us at (727) 785-6000 or (813) 237-0340  or email us at  olpclearwater@outdoorlights.com.