Here at Outdoor Lighting Perspectives of Clearwater, we have been talking about outdoor lighting for several areas of your home and outdoor living spaces.  We've shown you how architectural lighting can highlight the details of your home and make it look grander.  We've also talked about the different techniques used in tree lighting to add a dramatic twist to your landscaping.  Today, we want to walk to the back of your home, to a trendy area that has been getting a lot of attention in the past several years.  We are talking about outdoor rooms, whether it is a deck, patio, lanai or just a seating area.
These days, many homeowners have decided to stay in their homes longer and create extra spaces that can be used for relaxing and spending time with family and friends.  The big trend is in expanding outdoor living areas.  Outdoor areas are about creating memories with family and friends.  Whether it is buying a new seating arrangement, expanding the footprint or creating an outdoor kitchen, the possibilities are endless.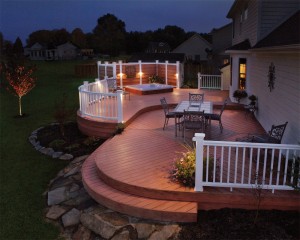 So much time is being spent outdoors and homeowners are adding to their outdoor eating areas and comfortable seating.  They are also going beyond the traditional gas or charcoal grills and adding pizza ovens, refrigerators, trash bins, multi-use sinks and beverage areas.  The list is as big as your imagination, and pocketbook in most cases.  Since the investment in outdoor kitchens has grown, so has the need for better lighting in these areas.  Lamps and ceiling fans are a great addition for the seating area but not the right application for a cooking and prep area. You need to have more direct lighting here for safety and cooking while preserving your counter space.
You may remember a story we wrote on installing our copper flood light on the structure of your lanai and integrating the wiring into your low voltage landscape lighting.  That has been a popular solution to many lighting concerns around grilling areas.  But when we are talking about an outdoor kitchen space, we can come up with many more options for lighting.  Patio, lanai and deck lighting doesn't have to just be on your steps and posts.  Our outdoor lighting fixtures can cast the perfect amount of light and can be installed in the most discrete places.  Here is a list of 5 options you could use in your outdoor area:
Our low voltage 10-watt deck/wall sconce light casts a wide indirect wash of light. The brass and copper 'half-moon' sconce creates rich ambient light, and the finish weathers the elements with grace.
Our 10-watt compact brass wall/deck light is similar to the half-moon sconce and is built for rigorous, yet inconspicuous performance.  This light is ideal for decks, patios, porches, gazebos, walls and other areas outdoors.
For a little added ambience, our great-looking 20-watt copper pier-mounted light is perfect for retaining walls and posts, decks, bench seating and handrails and casts a widespread glow to boost visibility.
One of our favorite fixtures is the 20-watt copper wall-posted sconce.  It casts light both up

and down from the fixtures and can be mounted on walls, posts and arbors.  It is a great addition to prep and cooking area.

Our LED bar lighting can be installed underneath objects to provide additional lighting. This type of LED lights the entire length of an object, similar to what you see in restaurants.  The bulbs are inset in a thin bar which makes it very versatile and the perfect solution to the cooking area.
When designing your dream list of amenities in your outdoor area, don't forget about outdoor lighting.  Our outdoor lighting fixtures can be used in untraditional ways to give you the most unique and functional lighting.  We would be happy to talk to you about the right type of lighting for your areas.  We can even come out and demonstrate how it would look at night at no charge to you.  Give us a call today to set up a free nighttime demonstration.  We'll show you what outdoor lighting can do for your outdoor rooms.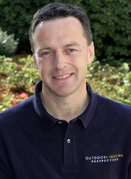 Robert van der Putten, Owner
Outdoor Lighting Perspectives of Clearwater
727-785-6000