During the last BNI Business Connections meeting, our group discussed the importance of having a positive website presence in order to best serve the outdoor lighting needs of our community. As I listened to a member of our team speak about how she was able to learn a great deal about the kind of outdoor lighting company we are by visiting our website, I was proud and satisfied that our website persona is well-received.
Even though you can learn a wealth of information about what type of outdoor lighting services we offer, peruse an expansive gallery of projects and our learn about dedication to the trade via our website,  there is still much more to learn about us.
We are a full-service outdoor lighting company with over 18 years experience in the art of outdoor lighting. This is not a sideline or secondary service, because outdoor lighting is ALL we do. Our menu of services ranges from design, installation, LED outdoor lighting , maintenance and service and encompasses; landscape lighting, architectural & facade lighting, pool and water feature lighting, decorative lighting, holiday outdoor lighting and much more.
We are fully licensed and insured, and will remain so even though it is no longer required in our area. That's right, up until very recently it was the law in Clearwater & Tampa Bay that in order to design and install outdoor lighting in the local area, you needed to have a license to do so. Outdoor Lighting Perspectives of Clearwater & Tampa Bay considers it not only a requirement, but also a privilege to carry this license from the very beginning since it solidified that our technicians and designers are guaranteed to know what they were doing. We only employ trained and professional techs and designers as part of our commitment to quality. We won't settle for any less, and we don't expect our clients to! Since we are ONLY in the business of outdoor lighting, we take it VERY seriously—especially since we are dealing with electricity often mixed in situations of water. We want to make sure the homeowners, their children, pets and visitors are always safe. Read more in our blog article: Why it is important to use a licensed outdoor lighting provider.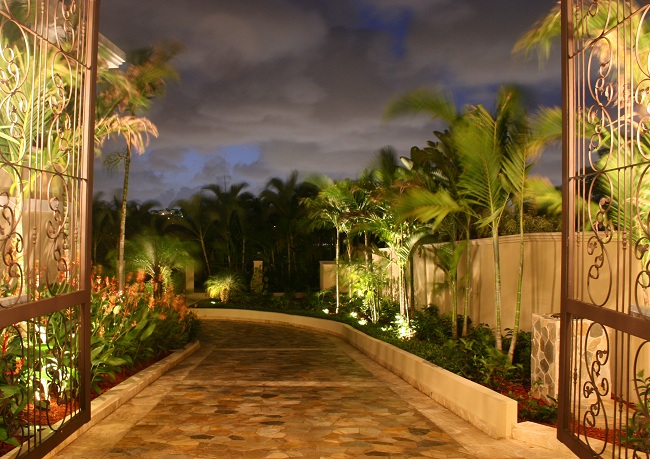 We not only promise the best customer service, we deliver. Andi, our office manager, is always here to help answer questions, schedule a new design consultation or a maintenance tune-up to keep your system running at optimal level. No inquiry is too small and she will make sure you get the attention you deserve!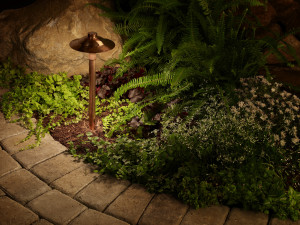 All our fixtures are made specifically to our standards unlike those available at the home improvement store. Ours are made of brass, copper and stainless steel that will last for years to come, particularly in our tough Florida weather of extreme heat, humidity and salty air. We use the highest gauge wire available and every system comes with a timer that allows you convenient control over every aspect of your system. If there is a problem or you need servicing, we are there to take care of any issue when you need us. Each of our systems, no matter how small or large, are professionally installed and are outfitted with fixtures that will provide you with years of enjoyment and peace of mind.
But don't take our word for it, read what our customers have to say about their experience with us by visiting our review and testimonial page located on our website.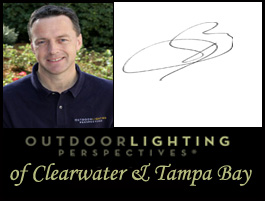 Get to know Outdoor Lighting Perspectives of Clearwater & Tampa Bay and learn why we are the outdoor lighting company you keep –Call us today at 727-785-6000 or 813-237-0340, or email us at olpclearwater@outdoorlights.com.