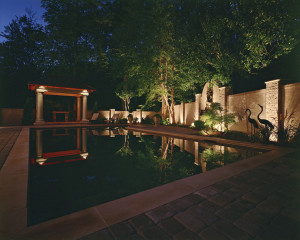 What do fathers and outdoor lighting have in common?  Fathers and outdoor lighting both make us feel relaxed, comforted and safe.  If your dad is like mine, I bet he takes pride in the countless hours he has spent in the yard, planting, weeding, and trimming.  Fathers love their outdoor spaces so why not give them a gift this Father's Day that will let them relish in their hard work and relax long after the sun goes down.
Outdoor lighting can create a place for dad to unwind and enjoy the outdoors at night, telling his wonderful life lessons and timeless jokes surrounded by his loved ones. Imagine celebrating dad in his beautifully lit outdoor spaces this Father's Day and every night after.  We can get him there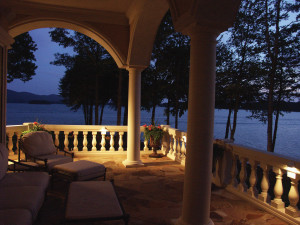 with path lights that create safer walkways and perfectly illuminate his vincas, begonias and geraniums he may have planted.  His palm, citrus or shade tree in the yard can be softly grazed with lighting, bringing out their texture and depth and capturing his attention like a dramatic piece of artwork.  Maybe it's his special gazebo out back that could be enhanced with just enough mood lighting to take away all the stresses of the day.  All of his outdoor spaces deserve to be shown off and enjoyed every night.
The outdoor lighting I installed for my dad brings him so much joy.  What makes it so special is that my dad lives in the Netherlands, where outdoor lighting is not as common.  He takes a lot of pride in his landscaping and loves the artwork in his yard.  The flowers, trees and sculptures now come alive at night for him to enjoy.  Seeing these pieces lit up after the sun goes down gives them new dimension and significance.  It's like a completely different area at night and he gets to enjoy that every evening.
So, forget about the tie this Father's Day and give dad a gift he can use night after night after night.  Outdoor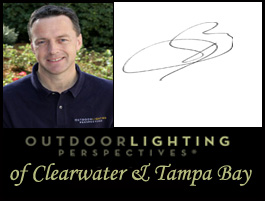 lighting not only lets him enjoy the great outdoors, it creates memories that will last a lifetime.
 Robert van der Putten, Owner
Outdoor Lighting Perspectives of Clearwater & Tampa Bay
727-785-6000 or 813-237-0340
To see more of our outdoor lighting, visit our landscape and garden lighting photo gallery on our website.