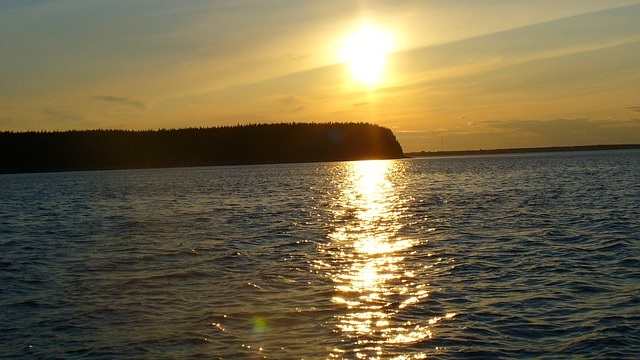 "I could never stay long enough on the shore; the tang of the untainted, fresh, and free sea air was like a cool, quieting thought."
—Helen Keller
Admit it, you could spend hours studying the dreamy hues that are cast over the ocean during sunset? Maybe you have set your alarm just a little early in order to admire the majesty of the sun as it rises while enjoying your morning cup of coffee? Maybe you even wait until right before dusk to visit your own backyard pool just to ensure you catch the final glimmer of sun dancing off the water? If you find yourself silently responding "yes" to any or all of the above, you are the person who needs and would benefit the most from the addition of outdoor lighting at your oceanside home, or as an enhancement to your pool or water feature.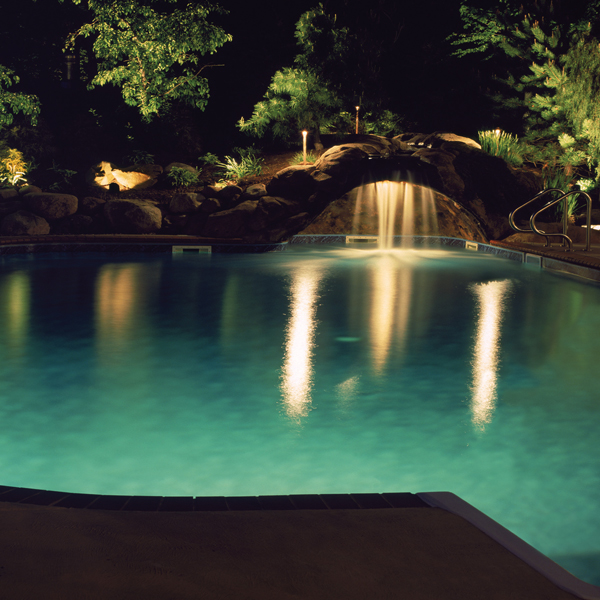 Why time your enjoyment of watching water and light mingle with the setting sun when you can mimic that same magic every night through the addition of outdoor lighting? Outdoor Lighting Perspectives of Clearwater & Tampa Bay is the area's premier outdoor lighting company. Our business is bringing the enchantment you seek into your landscape, around your home and yes, to compliment your water feature, to enjoy any night, during any season! Our beautiful water feature lighting designs will enhance your view from your oceanside home, dock, pier, pool, spa, pool surround, waterfall, koi pond or water fountain within your landscape promoting visual interest AND increasing the function in and around your water feature giving you year-round enjoyment of these special amenities.
Take a look at a few of the water feature/ oceanside installations we have completed: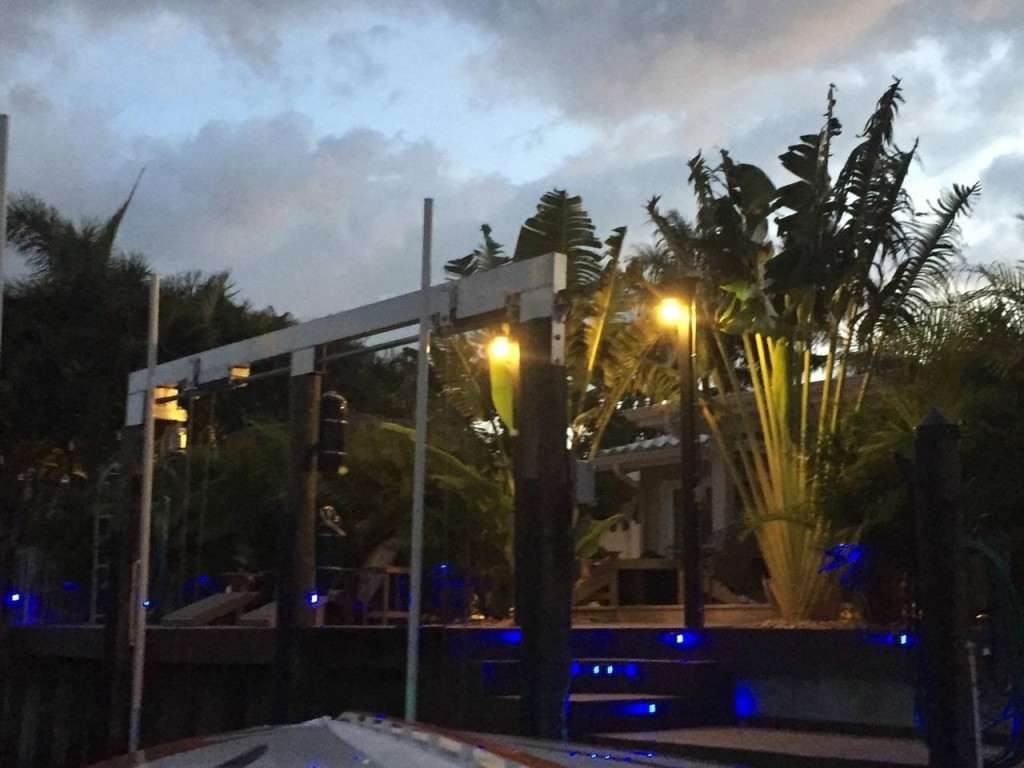 One of our most recent projects enhances the ambiance of this Dunedin, FL, oceanfront home and increases the mood in their backyard in a dramatic way. Instead of traditional clear LED lighting, this homeowner opted to change the color of their LED outdoor lighting to blue. The use of color helps create atmosphere which can be used temporarily, or on a permanent basis. For this particular installation we not only altered the color to blue for the path lighting, we also changed the stair lighting to blue as well. Outdoor Lighting Perspectives of Clearwater & Tampa Bay offers more color choices, including blue, which can be used as a lively and unique addition to your outdoor lighting design, too!
Another recent install we completed shows the elegance of our high-quality fixtures during the day. For this project we added copper path lights to the columns flanking the pool patio surround of this stunning oceanfront residence. As you can see, our fixtures are even beautiful by day. At night the lighting they exude will not only enhance the pool enjoyment, it will also add a romantic illumination from pool to ocean as the palms gently sway in the breeze — pure tropical tranquility!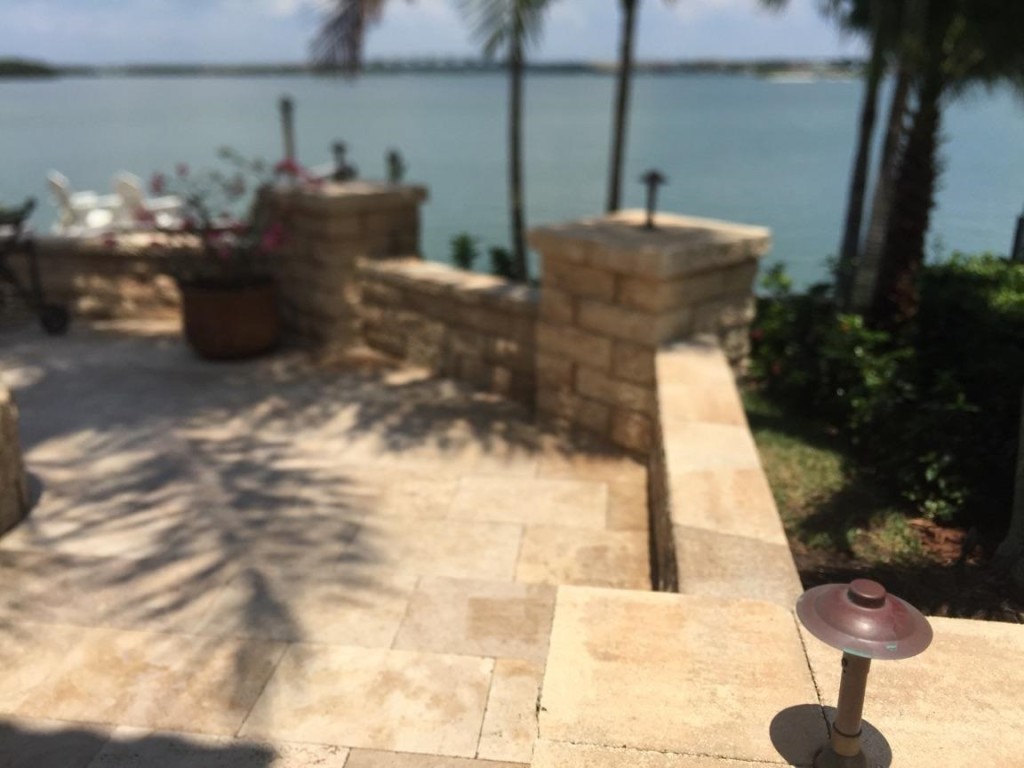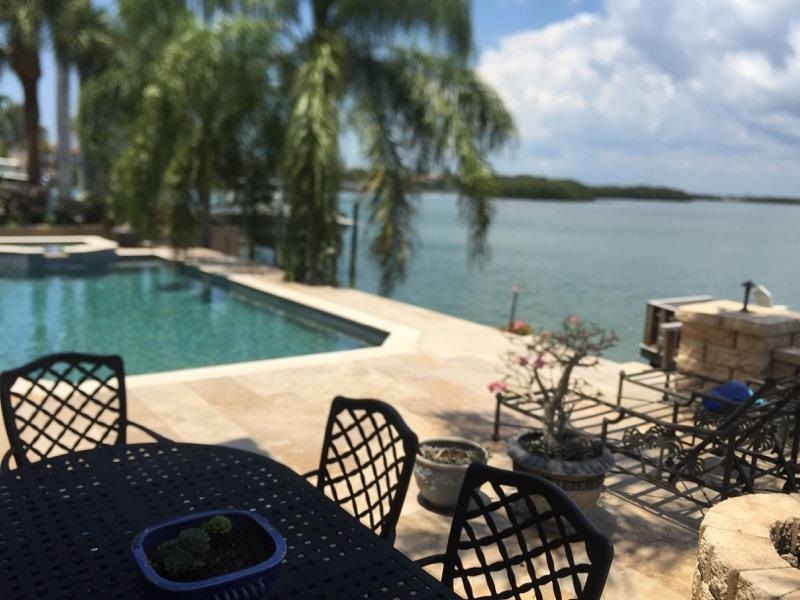 If you are one of the fortunate homeowners lucky enough to live by the water, you know the beauty that ensues looking out at  your property's most prominent feature — the view.  Having the backdrop of the ocean changes the entire aspect of your home and your property. It would be a shame to not be able to take in the lovely waterfront views at night. By adding outdoor lighting to your pier or dock you can easily remedy dark evenings spent staring into the void. Here is a project Outdoor Lighting Perspectives of Clearwater & Tampa Bay designed and installed for  local homeowners to make their dock fun and family-friendly in the evening: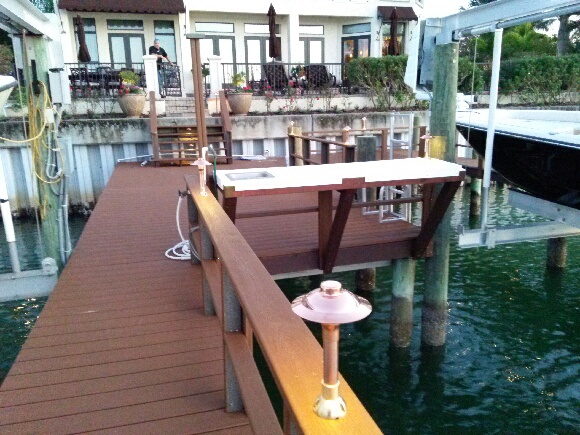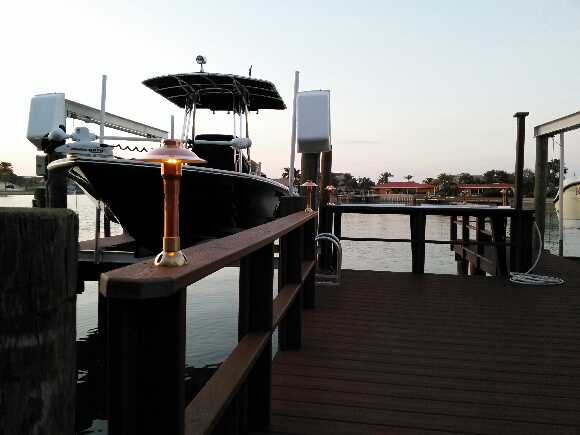 If you are ready to extend the use and beauty of your oceanfront home, pool or water feature with the addition of stunning outdoor lighting, we are here to assist you. As the area's premiere upscale outdoor lighting company we are your first choice for design and installation professionals to help turn your outdoors into the unforgettable space of your dreams; where relaxation, ambiance and function can coexist because of your versatile outdoor lighting system.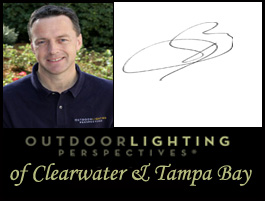 Contact Outdoor Lighting Perspectives of Clearwater and Tampa Bay today for a free consultation. You can reach us at (727) 785-6000 or (813) 237-0340.