The first few months of a new year is the time when many homeowners associations hold their annual meeting to discuss important issues within the neighborhood. This is also the time when homeowners can come together to discuss improvements they wish to make in the coming year that would benefit all residents.
Neighborhood visibility is important for visitors and homeowners alike.  Here in Clearwater and Tampa Bay we have been asked by many Homeowners' Associations (HOA's) for lighting consultations for new installations at a dark entrance, or to upgrade an entrance dimly lit with old fixtures, worn out bulbs or bad wiring.
Improving the safety of a neighborhood entrance and common areas is vital, but making your community more appealing in the evening is also important. Professionally designed and installed outdoor lighting within a community makes a lasting first impression with prospective homeowners. We specialize in creating a memorable outdoor lighting design for your neighborhood's entrance, community centers and even amid the landscape that is prevalent within the common areas of your neighborhood.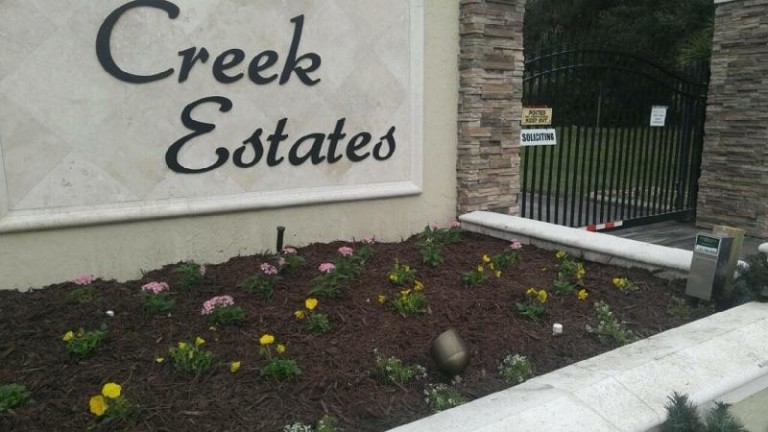 Recently, Outdoor Lighting Perspectives of Clearwater & Tampa Bay completed an installation for the Cypress Creek Estates neighborhood of Bradenton in Manatee County, Fla. We worked along with the landscaper to make improvements around the entrances and within the landscaped islands. These improvements included installation of new plant and landscape materials and the addition of neighborhood entry lighting, landscape lighting and tree lighting.
Each of the landscaped islands spanned approximately 350′ long. Here the landscape designer installed 50 royal palm trees along with other species of palms and various plants. Each facet of this project is enhanced through the addition of the outdoor lighting we provided — from the dual gated entrance to the beautifully polished and illuminated natural areas — residents of this community now have a more elegant and safe neighborhood to come home to each day, and evening!
First quarter is when many community HOA committees meet with homeowners to discuss recommendations and upgrades for the coming year. Now is the perfect time to evaluate the conditions of your neighborhood entry, common areas and clubhouse. Contact Outdoor Lighting Perspectives of Clearwater & Tampa Bay to learn more about community outdoor lighting. We can design, install and maintain all your lighting needs!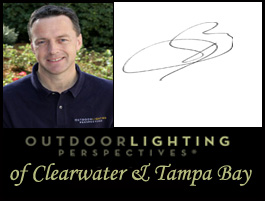 You may reach us at (727) 785-6000 or (813) 237-0340 or by visiting clearwater.outdoorlights.com
"We help people enjoy their outdoor living experience after sunset by adding beauty, safety & security."