No, we don't see this every day, but occasionally, Mother Nature throws some unconventional wear and tear on the outdoor lighting systems installed and serviced by Outdoor Lighting Perspectives of Clearwater and Tampa Bay. This past week, we were called out for maintenance and found a snake had made this client's transformer box into its winter condo. It had even left behind a change of "clothes" when it checked out. Wrapped around some wiring, the snake probably created the heat buildup that caused part of the transformer to burn up. Of course, this knocked out whole system. With a simple part replacement, we had the system up and running in no time. Hopefully, the snake has no plans to return for the summer season.
While the quality of our fixtures and components are the best on the market, some problems simply can't be avoided. Through the years we have worked in this field, Outdoor Lighting Perspectives of Clearwater and Tampa Bay has also found wasp nests, fire ants, and frogs in transformer boxes. Any creature taking up residence in such a place can cause problems with your outdoor lights, just as this snake did. This is one of the reasons that routine maintenance is an important part of keeping your outdoor lighting system performing at its best.
Since you're probably doing spring-cleaning anyway, now is the perfect time to do maintenance on your system. If you have an Outdoor Lighting Perspectives system and opted for the Annual Maintenance Plan, this work is already covered. All you have to do is set up a time with us. During this visit, we will reposition any fixtures that may have moved throughout the year due to weather, landscaping, or pets colliding with them. We will replace any bulbs that have burned out, check your wiring and transformer, and even adjust your timer to accommodate the Daylight Savings Time shift coming up this weekend. If you don't have an Annual Maintenance Plan, consider adding one. With it, you'll never have to worry about fixing up your outdoor lights. We'll handle it for you.
Perhaps you're not an Outdoor Lighting Perspectives of Clearwater and Tampa Bay client. Maybe your system is from a different provider or contractor. That's okay too! We can service systems we didn't install, and you can be assured your outdoor lights are now in professional hands with many years of experience in the Clearwater and Tampa Bay area. Ask around. People know who we are and can attest to the quality of our work.
So in between airing out the house, cleaning out the closet, and freshening up the paint, call Outdoor Lighting Perspectives of Clearwater and Tampa Bay. While you clean up the house, we will clean up your outdoor lights. Then you can spend the rest of the night relaxing in the serene, elegant glow that is your outdoor lighting.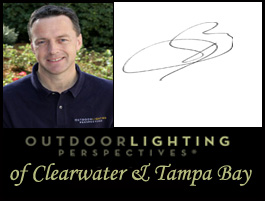 Robert van der Putten, Owner
Outdoor Lighting Perspectives of Clearwater & Tampa Bay
727-785-6000 or 813-237-0340