If you are in the market to add, or update, an outdoor lighting system to your home and landscape it's wise to do your homework because all outdoor lighting is not created equal. If you want an outdoor lighting system that will enhance the beauty and functionality of your home and landscape with quality and longevity in mind, professional outdoor lighting by Outdoor Lighting Perspectives of Clearwater & Tampa Bay is the best choice.
Just like selecting other amenities for your home, making an investment in outdoor lighting should not be taken lightly, it pays to do your research. For example, you wouldn't move ahead with the purchase of new appliances without learning about the products' quality and durability would you? Of course not.
Many homeowners purchase outdoor lighting at "big box" stores and install themselves, others may allow a non-licensed installation and design. Unfortunately, many times these homeowners are filled with disappointment and regret when their project doesn't fulfill the function or desire they wished for. Here are some examples of these scenarios:
Solar lighting: The biggest dilemma with solar lighting is that it isn't reliable. The light output may be great when first installed, but can quickly diminish, requiring frequent replacement which can become time-consuming and quite expensive over time. With solar lights, the light output isn't widespread, this means many solar lights are needed to light a space efficiently. We sometimes refer to this as the "airport runway effect." Over time, solar lights are also prone to illuminate sporadically, causing the issue of inconsistent illumination.  Keep in mind, at Outdoor Lighting Perspectives of Clearwater & Tampa Bay our philosophy is to focus on the effect rather than the fixture, with this in mind just a few of our high-quality path lights are needed for the average walkway because of their superior light spread capability.

Outdoor lighting fixtures made from inferior materials: Systems that are 10+ years of age may contain fixtures made of cast aluminum that have not, and will not, hold up to our coastal conditions. Often these fixtures are failing, sun-bleached, corroded and in some cases aren't operational at all. Unfortunately, fixtures in this condition make your home look tired and out of date and can certainly affect your home's value. These cheap fixtures are not designed for longevity.

Line Voltage Lighting: We see many older, existing outdoor lighting systems in the area which were installed with line voltage lighting. Considering a line voltage installation in the present-day requires comparatively extensive excavation. Not only is this cost prohibitive, it can damage tree and shrub roots wreaking havoc on your landscaping. Other lighting options are more economical and more advantageous from a function and "green" perspectives such as low-voltage lighting and LED outdoor lighting.
One of the most prevalent of all the issues plaguing older outdoor lighting systems is that they are in desperate need of a good tune-up, and in desperate need to step forward and evolve from antiquated line voltage or halogen systems to energy-saving LED's. If your outdoor lighting fixtures are in good condition, Outdoor Lighting Perspectives of Clearwater & Tampa Bay can modernize your current ones by transforming them to the newest LED technology. An LED upgrade of your existing system will save you a substantial amount on your energy costs. We may even be able to improve the look of your faded fixtures to look revitalized by revamping them with a hard-wearing powder-coated finish to give them an updated look so you can extend their life.
If any of the above describes your current outdoor lighting scenario, our expert technicians can overhaul your current outdoor lighting system with our high quality brass and copper fixtures that are made right here in the USA. Your home will have a fresh new look that feels updated and cared for. Our fixtures will last for years and look fantastic. Our copper/brass fixtures do oxidize and this is part of the natural aging of the fixture. Over time, they will gently weather into the landscape because at Outdoor Lighting Perspectives our philosophy is to focus on the effect, not the fixture.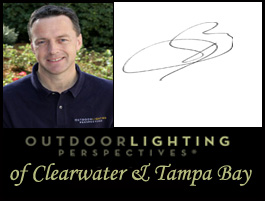 We stand behind all our illumination products and installation at Outdoor Lighting Perspectives of Clearwater & Tampa Bay. Call us today at 727-785-6000 or 813-237-0340, or email us at olpclearwater@outdoorlights.com to learn what we can do for you.