An arbor is one of the most beautiful and enduring pieces of a landscape. It takes time, precision, and a lot of hard work to bring it to life. And there is no better way to appreciate it than to add arbor lighting. I recently had the opportunity to put up some beautiful outdoor lighting from Outdoor Lighting Perspectives of Clearwater & Tampa Bay in and around an arbor. The lights and placement were key to getting the perfect aesthetic.
I placed a few of our beautiful copper deck lights inside of the arbor to begin with. That way, a rich wash of ambient light illuminated the inside. It was like a gentle beckoning to come and enjoy your backyard. Plus, safety and security was added to prevent any accidents in the dark. From there, it was only a matter of a few more fixtures to really set the scene. Around the lanai, path lights were strategically placed to cast a stunning glow onto the foliage all around. Then a well light was added at the base of an interesting tree provided entrancing ground up lighting. It all blended together to form a visually amazing spectacle once the sun set.
Watch our short video to see how the outdoor lighting was used to turn this backyard into a private oasis.
Don't hesitate to give us a call and allow us to design custom outdoor lighting plans for your Clearwater or Tampa Bay home. We are always primed and ready to enhance your landscape as well.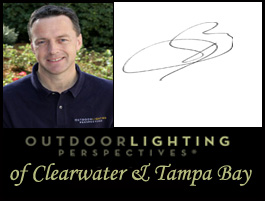 Robert van der Putten, Owner
727-785-6000 or 813-237-0340
email: olpclearwater@outdoorlights.com