One of the things I enjoy most about being in the business of professional outdoor lighting is being able to come up with unique lighting options to suit the individual needs of my clients. There is more to the art of outdoor lighting than just installing a fixture. Being able to address the specific needs and unique outdoor lighting requests of homeowners shows the versatility of outdoor lighting as an art, not just a trade.
Our most recent request involves a homeowner here in Clearwater, whose son is very involved in basketball. The family basketball court, where he enjoys practicing during the evening, is located just off the garage. Their current outdoor lighting was not illuminating the area adequately, making it difficult for this young athlete to focus on his winning strategies for the big game. Our answer was to install three BB-01 flood lights directly onto the façade of the garage, wiring them into the homeowner's existing landscape lighting. In this scenario we also installed a convenient on/off switch so the lights could operate only when needed, leaving the remaining landscape lighting uninterrupted. Now the hoop is ready and well –lit to perfect his passion for the game long after the sun goes down.
These are just a few of the ways Outdoor Lighting Perspectives of Clearwater executes the versatility of outdoor lighting to satisfy the needs of many unique lighting situations. We strive for customer satisfaction through the beauty and function of outdoor lighting. By using creative lighting solutions and thinking "outside the box" to get the job done, no order is too tall to fill.
If you have a scenario that requires a diverse lighting solution, contact us today.  We can customize a new lighting design to satisfy your unique circumstances, or amend your existing installation to better suit your needs.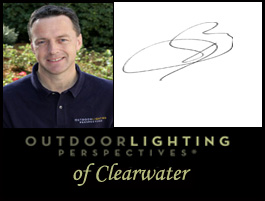 Robert Van der Putten, Owner
Outdoor Lighting Perspectives of Clearwater
727-785-6000   olpclearwater@outdoorlights.com