Wouldn't you like to give Dad a gift he'll remember, one that will enrich his life? Dad has done so much. Day in and out, he has sacrificed his own fun and relaxation for the well being of his family. He deserves a gift that rewards him, allows him to escape the rat race, and rejuvenates him. While he probably can't take the summer off and vacation in Bora Bora, you can give him a getaway that he will enjoy night after night, all year long, with the gift of outdoor lighting.
Here in the Clearwater and Tampa Bay area, we are blessed with beautiful beaches, palm trees, and salt sea breezes. Many would call our corner of the world paradise. The main difference between Dad's home and a resort is ambiance. A resort is relaxing, serene, romantic, and dramatic. It encourages us to relax and enjoy ourselves by creating an appealing atmosphere. While decorations and amenities play a role, a huge contributor to this atmosphere is the lighting. Consider the pool area. Dramatic uplighting casts warm glow on palm trees. Light shimmers on the surface of the pool, enticing you to step in. Path lights illuminate walkways. Chances are you don't really even see the light fixtures. You simply see beauty and feel the mood it creates. Now consider Dad's pool area. Chances are there are pathways and palm trees. The big difference is the lack of pool area lighting. With just a few fixtures, Dad can have a resort-like pool area where he can unwind and rest.
The same is true in other areas of the property. Outdoor lighting can transform the deck or lanai into a romantic dining area or intimate sitting area. Dad's gardens and landscaping, under the best outdoor lighting, take on that resort calm. Architectural lighting shows off features of the home of which he is so proud. It also makes the property more secure.
Sure, an exotic vacation would be wonderful, but you can help Dad escape the everyday mundane by giving him outdoor lighting for Father's Day. So call Outdoor Lighting Perspectives of Clearwater and Tampa Bay. We will take care of everything, even maintenance. That way, Dad doesn't have to. We'll work with him closely to ensure he is happy with the look and feel of the spaces. Trust us, it will be a gift he'll treasure.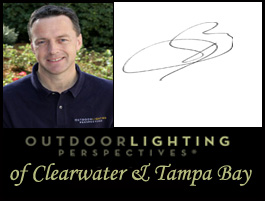 Robert van der Putten, Owner & Father
Outdoor Lighting Perspectives of Clearwater & Tampa Bay
727-785-6000 or 813-237-0340