When Outdoor Lighting Perspectives of Clearwater & Tampa Bay designs your outdoor lighting, we will make sure to design it with energy-saving LED fixtures that will be longer lasting over old-school halogen fixtures. Though other lighting contractors might design strictly using traditional fixtures to keep the front-end costs appear slightly lower, you will be paying more in operational costs each month since those fixtures are higher wattage consumption and they end up costing you more in the end. Not only that, what they also won't tell you is that traditional halogen bulbs don't last anywhere near as long as LED bulbs, so you'll be paying that contractor to come out and replace your bulbs more frequently—which is another way they take a bite out of your wallet.
LED lighting has revolutionized the outdoor lighting business over the last decade and has allowed homes to truly go green with energy efficiency. If you are installing a new lighting system or looking for an upgrade for your current halogen system, the perfect time to do it is now because the prices have come down quite a bit in the last few years. Plus, the benefits that it provides to your pocketbook are meaningful so it's very worthwhile to do.
In the next fifteen years, most of all lighting bought in this country will be LED, and Outdoor Lighting Perspectives of Clearwater & Tampa Bay will provide you with LED lighting fixtures made solely for us that are commercial grade and are proudly made in the USA with all metal parts—not plastic. Additionally, we also have the capability to retrofit your present conventional halogen fixtures to utilize LED bulbs! If your existing fixtures are in good condition, we can save them from the landfill and transform them to LED, which works well if you are on a tight budget.
Halogen bulbs burn out on a regular basis, so you either need your lighting professional to return on a periodic basis to change them out or you have to run to your home improvement store to buy some yourself and wade through your landscaping to unscrew your lens covers and make the replacement. That's neither fun nor cost-effective over time. LED bulbs have a 50,000+ hour life expectancy and last over twenty times longer than halogen ones. That cuts usage costs since maintenance is reduced as is the irritation of persistently purchasing and replacing dead bulbs.
With Outdoor Lighting Perspectives of Clearwater and Tampa Bay's LED fixtures, only the bulbs themselves have to be replaced if it happens to fail (which isn't common). What our competitors won't tell you is that their LED fixtures have built-in bulbs that require the entire fixture to be trashed should there be a problem! Our goal is to provide you with quality fixtures that give you plenty of flexibility and save you money over their lifetime.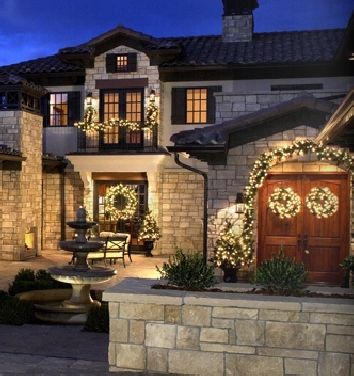 Outdoor Lighting Perspectives of Clearwater & Tampa Bay also uses LED technology on all our holiday lights and displays too! Get all the benefits of LED's that are wallet friendly, safer for your family and better for the environment.
Contact Outdoor Lighting Perspectives of Clearwater & Tampa Bay today to learn more about reaping all the benefits of LED outdoor lighting! Call today for a free consultation or to schedule a night-time demonstration by calling (727) 785-6000 or (813) 237-0340 or email us at clearwater.outdoorlights.com.