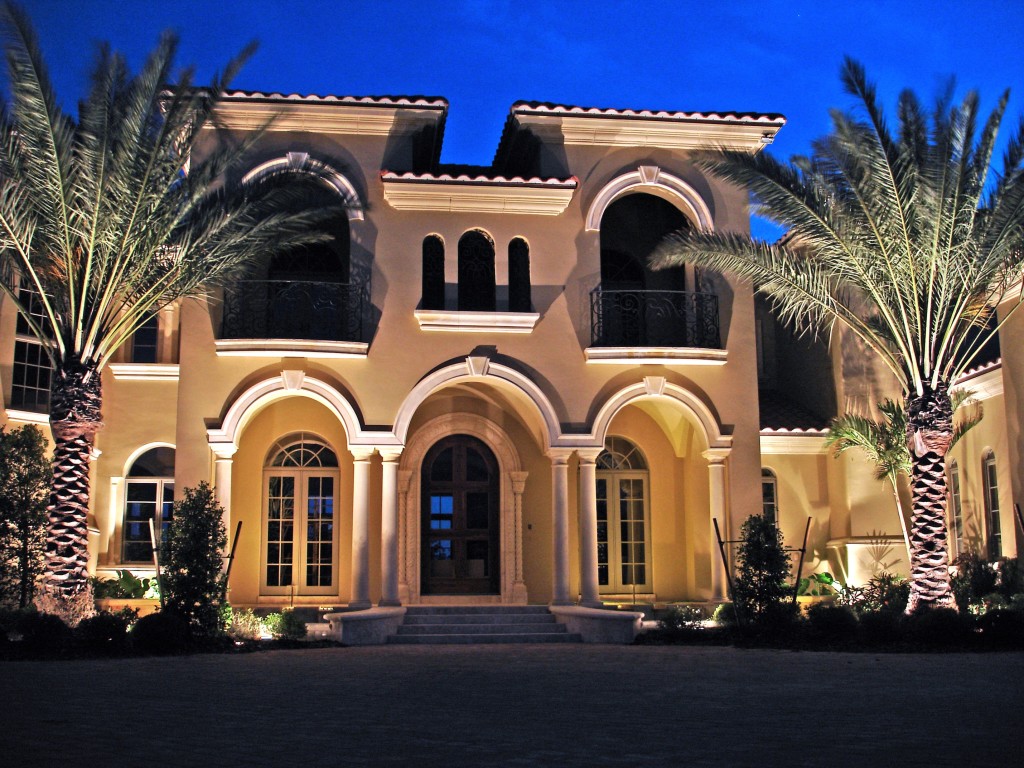 Just like the old saying goes, "you get what you pay for" — the same rules apply with outdoor lighting. Cheap outdoor lighting fixtures are never cheap. You may feel like you are getting a deal on the front end, but you will pay for one of our high quality fixtures many times over in the long run if you go with cut-rate fixtures, not to mention the headaches that come along with them.
Our competitors will certainly tell you that can save you big bucks on their fixtures, but what they don't admit is that they are inferior quality and not suited for the coastal conditions. Many are made out of plastic parts with thin wires. They are a closed constructed unit so that if anything goes wrong with them, you basically have to throw out the entire unit. We've been able to closely inspect our competitor's fixtures because we've had to replace a tremendous amount  of them over the years. They simply cannot stand up to Florida weather and they fade in the intense sunlight, rust and corrode from the salt air, and break down quickly.
Outdoor Lighting Perspectives of Clearwater & Tampa Bay uses only American made, commercial quality outdoor lighting fixtures. They are made of copper, brass and aluminum construction so that they hold up in our harsh coastal weather in Florida year after year. Our fixtures our exclusively constructed to our specifications so that we can repair them if a problem occurs, and we can also upgrade them. As technology improves, the existing fixtures are designed to evolve.
Your fixtures are the hardest working part of your outdoor lighting system, and this is not a place where you should skimp or try to cut corners. They are an investment in a system that has to work every evening and has to be reliable. Investing in solid quality fixtures means they are in for the long haul and are worry-free. Why should you put your hard-earned money toward fixtures that will only last a few years and will need to be replaced? Don't overload the landfills and simply choose superior fixtures upfront. We install fixtures with Cree LED lighting technologies  that are low-consumption and high performance that cast a beautiful warm glow. Another benefit to using Cree LED is they are less likely to attract insects, including dangerous mosquitoes. In our state, the fewer bugs we have to be pestered by the better!
Our fixtures at Outdoor Lighting Perspectives of Clearwater & Tampa Bay are undeniably high quality when you see them and have a heft in your hands. Our wiring is the thickest in the industry and our transformers and timers are top grade. There is nothing cheap about what we install. We will happily work within your budget to give you the most bang for your buck when it comes to illuminating your home, property or business—and we can install your system in stages if that better suits your wallet. Since our fixtures can be adapted to suit your lighting needs, we can make even a few of them produce way more light than those inferior fixtures from overseas. And if anything ever goes wrong with our fixtures (which isn't common), we can repair or retro-fit them so they get many more years of service.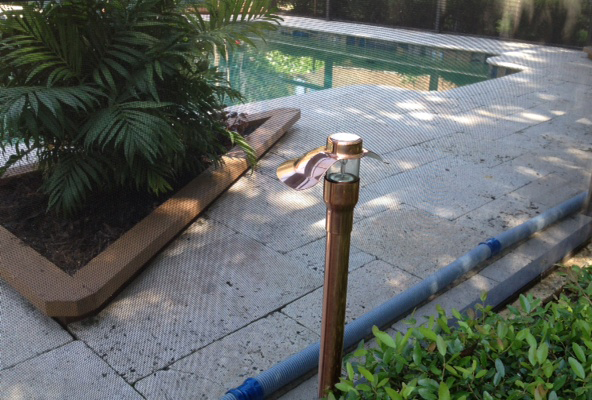 We offer a wide variety of shapes and styles that will match any home style—traditional, old world, contemporary or modern.  It's all about the effect with our fixtures, and in the hands of our talented lighting designers we can give you any mood or ambience you are after.
You could go cheap and replace your outdoor lighting fixtures in a few years, or you can invest in your outdoor lighting system for the long-term with fixtures that will last and provide you with gorgeous light every evening with little trouble.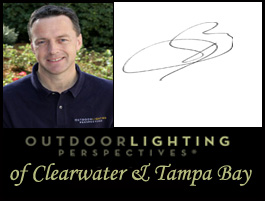 Contact Outdoor Lighting Perspectives of Clearwater & Tampa Bay today to see our catalog of outdoor lighting fixtures and select your favorite! Call today for a free consultation or to schedule a night-time demonstration by calling (727) 785-6000 or (813) 237-0340 or email us at clearwater.outdoorlights.com.