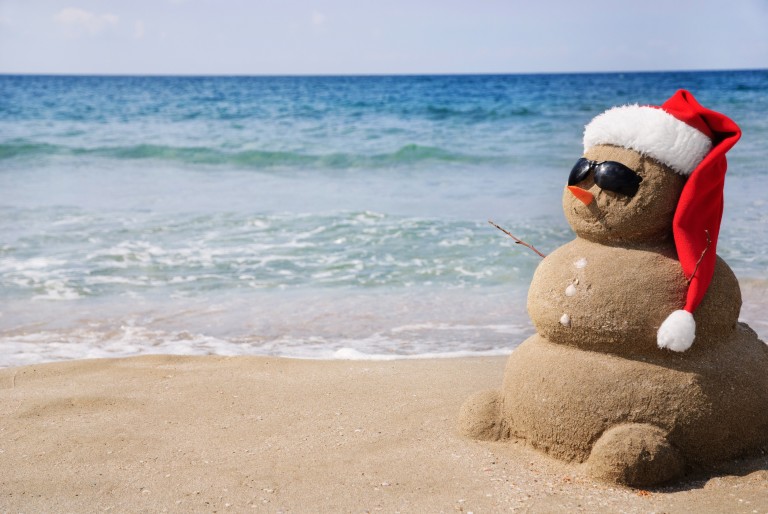 It may seem like the holiday season is light years away, when in fact, the countdown to Christmas has passed the halfway mark and we are now a mere 21 weeks away! With this in mind, and to help get your mind off the summer heat, we want to take this opportunity to discuss both holiday and LED outdoor lighting.
Two weeks ago, I hosted a "Christmas in July" gathering for my BNI Business Connection meeting group at my home. Everyone was encouraged to dress accordingly as you can see from the t-shirts my wife and I donned in honor of the occasion below. The theme for the occasion was inspired by a recent topic of discussion at our recent meeting where I reminded everyone that with the upcoming arrival of holiday lighting designs now is the best time to consider that LED outdoor lighting upgrade you've been thinking about.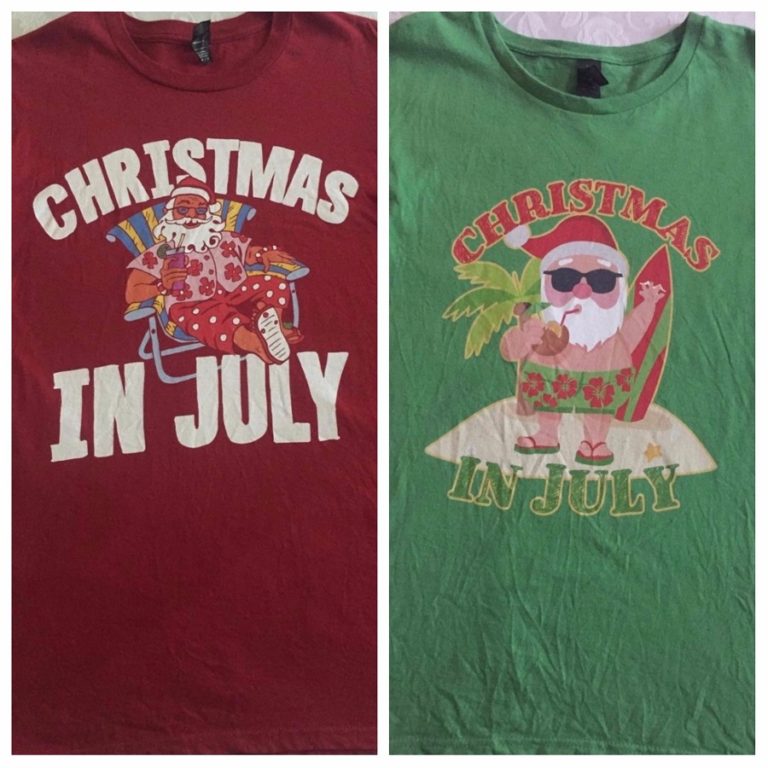 Why now, you may ask? Well, that's a good question. First of all, the influx of holiday lighting customers will make our schedule tight late fall through the holiday season and acting now will ensure your LED upgrade is a top priority. Secondly, regardless of whether you incorporate Christmas lighting into your structures and landscape during the holidays, LED outdoor lighting will enhance your home or business all year, every year, making it more beautiful, safer and more secure.
If you are still operating an old school halogen landscape lighting system, in most cases we can retrofit or upgrade to LED to bring your system up to date.
And that's not all! LED outdoor lighting provides significant savings on electrical operating costs (up to 80% in most cases). For example, a four watt LED can produce a directional light equivalent to a 20W halogen. Additionally, due to the lower wattage, the lighting system will have less voltage drop. This, in turn, provides a more even and consistent illumination for all of your lighting fixtures. LED bulbs are engineered to last much longer than halogen bulbs. LEDs have an average useful bulb life of up to 50,000 hours, while the quartz€ halogen bulb has a useful bulb life between 2,000‑3,000 hours. The light provided by LED lighting is crisp, clear and bright. Because of their long life expectancy, you can expect to enjoy this light, without replacement costs, for much longer than traditional lighting sources.
Now is also the perfect time to start thinking about holiday outdoor lighting, too! When it comes to outdoor lighting, our service is second to none. Our extensive holiday product line and full-service approach takes all the hassle out of your holiday preparations. One of our design consultants will come to you at your home or business and create a custom outdoor holiday lighting plan just for you. Then, our fully-insured, professional installers set up your holiday outdoor lighting and décor. After the first of the year, we will come back to take the lighting and decor down and store them for you until the next holiday season.
Contact us today at (727) 785-6000 or (813) 237-0340 or email us at olpclearwater@outdoorlights.com to see if upgrading to LED is the right fit for you or to get on our holiday outdoor lighting schedule as spots fill quickly!