The environment of the Tampa Bay area is, in one word, stunning. Due to our subtropical climate we get to enjoy some of the best vegetation in the entire country. Simply looking out your window will confirm that statement. You probably see a lush yard, thriving foliage, and at least one our state's signature palm trees. Or perhaps even a strong, native oak tree in the area as well. Trees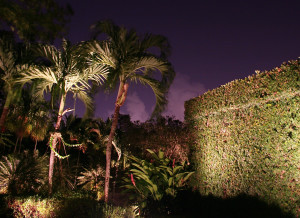 are often underestimated in their ability to bring beauty to one's home. The right tree lighting for any species of tree can immediately intensify your landscape and bring a stunning spectacle to your home.
Our area is the northern most area that can grow coconut and royal palm trees. Their textured trunks and engulfing leaves are as noteworthy as the beaches they grow near. Illuminating them with outdoor lighting can ensure they stay entrancing well into the night. Up lighting is an excellent choice for palm trees. Varying the types of beams and spreads on the lights under each palm tree gives dimension to your landscape. This way the area is brought to life through visual depth. Up lighting also intensifies the texture of the trunk and provides the leaves with deeper contrast. This results in a spectacular sight that compliments one of our own ocean view sunsets.
Large, sprawling oak trees are another species native to the area. With their thick trunks and encompassing canopies, the type of tree lighting used here varies from the kind used for palm trees. Up lighting can also be done, but multiple fixtures for one tree may be necessary. The same dramatic look will follow as the twists of the trunk and branches provide different shadows to play with. However, the option of down lighting comes into play as well. The canopy on oak trees is perfect to hide outdoor lighting fixtures. The light cascading down gives a whole new look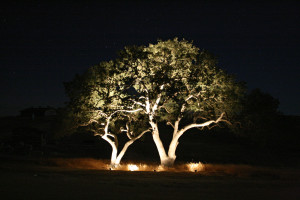 altogether. Moonlighting is a specific kind of down lighting that gives a soft, glowing look to the entire tree. If you're looking for a hauntingly real illusion, moonlighting is the way to go.
The trees in your yard are more than just trees. They are permanent pieces of aesthetic beauty that enhance the overall look of your landscape. Call Outdoor Lighting Perspectives of Clearwater & Tampa Bay and allow us to put them on display. We're experts at working with all kinds of trees in the area, from oaks to palms, and can design a brilliant outdoor lighting plan that will surely take your breath away.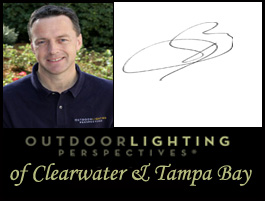 Robert van der Putten, Owner
Outdoor Lighting Perspectives of Clearwater & Tampa Bay
727-785-6000 or 813-237-0340
To see more of our enchanting tree lighting, visit our landscape and garden lighting photo gallery on our website.