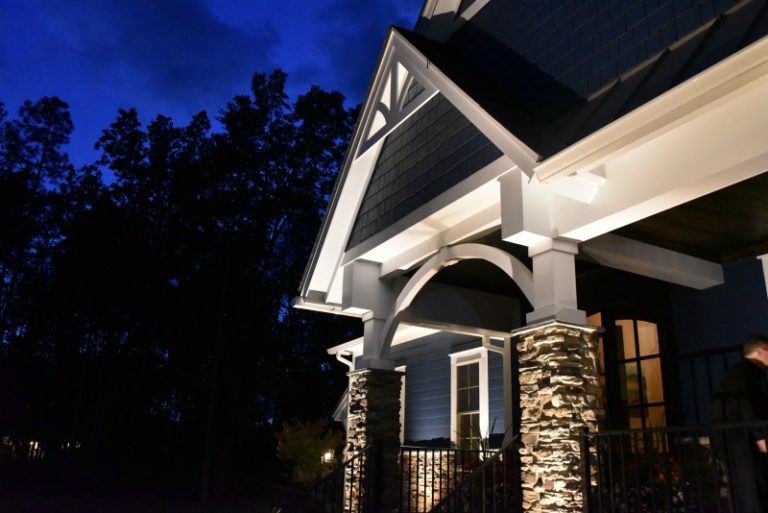 Have you ever thought about what the front of your home says about you? Your home's front facade and landscape serve as the "face" of your property. This is the area that everyone sees, whether it is a first-time visitor or faithful friend. Elements such as your sidewalks, flower beds and/or landscaped natural areas ignite the mood visitors feel as they make their way to your front door. Small, personalized touches add to the charm of your home's entry, too. Decorative elements such as a wreath, pot of seasonal annuals or a welcoming doormat add to the feeling of making your guests feel at ease before they even knock on the door to greet you!
With this in mind, how does your home's front entry appear to guests?
It is important that the entry to your house is welcoming to guests, reflects your personal style and makes them feel happy and comfortable as soon as they walk through the door. This space sets the tone for the rest of your home, so it is only natural that lighting is a key factor in bringing a warm and welcoming aesthetic to your home.
Parking in a dark or dimly lit driveway immediately creates a feeling of uneasiness. If the area from the driveway to your door is equally as dark, it increases this feeling three-fold. Outdoor lighting is the best way to curb those feelings of uneasiness. Outdoor lighting has come a long way from the traditional porch lights and hot-to-the-touch halogen lights. Here at Outdoor Lighting Perspectives of Clearwater & Tampa Bay, our LED outdoor lighting increases energy efficiency, design versatility and the lifespan of our installations.
By integrating our LED technology into your Clearwater, Tampa Bay or St. Petersburg driveway-to-door area it not only makes your footsteps safer but also gives your property an amazing ambiance when the sun sinks low.  We offer a full menu of outdoor lighting options to customize the look and feel of your home's front facade and entry. These include architectural and facade lighting, path lighting, hardscape and patio lighting, tree and landscape lighting and much more! We even offer outdoor lighting automation ensuring your home's entry is always welcoming and always illuminated at the right time.
Contact Outdoor Lighting Perspectives of Clearwater & Tampa Bay today to bring convenience, beauty and security to your home. Call us at (727) 785-6000 or (813) 237-0340 or email us at olpclearwater@outdoorlights.com.