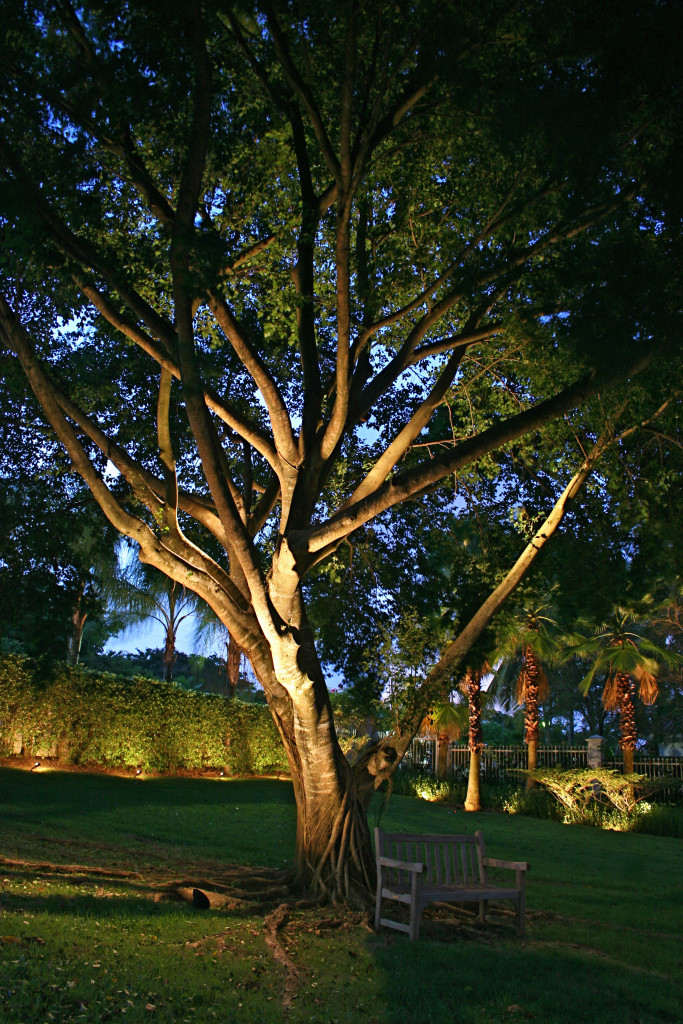 One of the advantages to living in West Central Florida is the climate. The Clearwater, Tampa Bay & St. Petersburg areas seldom have temperatures that require more than a light jacket and unlike other parts of the country, we don't have to wait for the danger of freeze to pass in order to plan additions to our landscape. With this in mind, many homeowners opt to add new trees and plants to their property this time of year.
In much the same way every picture tells a story, each tree in your landscape can also tell a story through the addition of tree lighting. Trees as a species naturally have a great deal of character. Each tree has a distinct personality all its own such as the embracing branching of the oak, to the majestic fullness of the palm tree; no two trees present themselves identically. For example;  the character and effect that is interpreted through lighting an ornamental crepe myrtle tree is far different from those conveyed through lighting a palm tree.
When you imagine the quintessential West Central Florida landscape, you probably imagine an expanse of lush palm trees. It is true that palm trees thrive in our climatic region, however there are many more ornamental and native species of trees that perform well here too. These include Maple trees, Cypress, Bottlebrush trees (Callistemon), Magnolias, Ligustrum, Oaks, River Birch and of course Palms. Choosing specific trees within your landscape for tree lighting can breathe new life into your landscape and give your entire property a distinct feel. If you are just starting out with a new landscape and outdoor lighting installation, we can help you decide which trees deliver the most dramatic effects, and which will thrive best in our tropical climate.
In order to bring out the character of  the trees you choose to highlight, Outdoor Lighting Perspectives of Clearwater & Tampa Bay can make the unique characteristics shine through by using various tree lighting techniques. We often use up lighting to accentuate the trunk and height of a tree. Well lights are often used at the base of a tree to play up the tree's width and girth, and down lighting (aka moon lighting) is sometimes used to accentuate the canopy and add drama to the branching of the tree and the shadows cast below the area of the tree.
We treat each tree as a separate entity with our tree lighting designs because what works for one tree, may not necessarily work for another. Professional tree lighting is an art we take very seriously. We also pay special attention not to damage or alter your tree leaving it susceptible to fungus and disease when installing your tree lighting fixtures. A healthy tree is a tree that will remain beautiful and bring enjoyment for years to come!
Since trees are a living entity, and compromising any element of the tree itself during a tree lighting installation can damage the tree leaving it susceptible to insects, disease and fungus, and in some cases can even lead to the death of the tree. This can include cutting into the limbs or trunk of the tree during installation and not leaving enough room for growth of the tree itself when installing the lighting.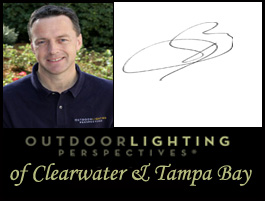 If you are planning a new landscape endeavor or are poised to bring your landscape to life after dark, contact Outdoor Lighting Perspectives of Clearwater  to learn more about our amazing landscape lighting and tree lighting designs. You can reach us at (727) 785-6000 or (813) 237-0340 or via email at olpclearwater@outdoorlights.com.