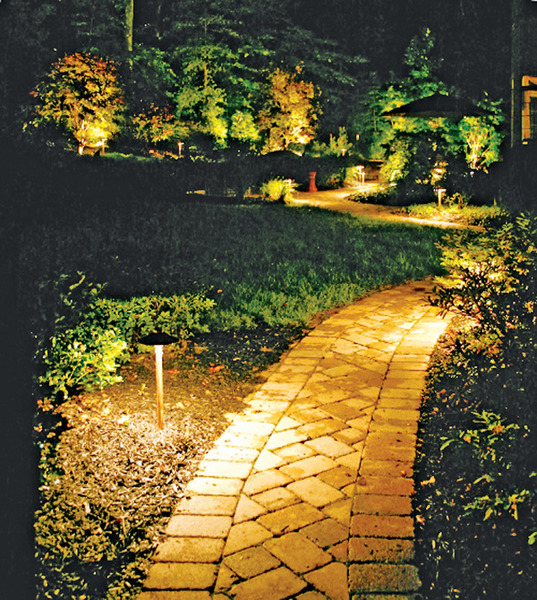 All path lighting is not the equal in terms of quality, and we know this for a fact because we've replaced plenty of our competitors low-grade ones for years. One major complaint we get from homeowners is that the lighting output and spread of light is just not wide enough on the competition's cheap fixtures. Not only do you want to ensure your entire walkway is illuminated from an ambiance perspective, but it's also imperative from a safety perspective too.
At Outdoor Lighting Perspectives of Clearwater & Tampa Bay, we know the value of customized lighting. We only use superior commercial quality fixtures where we can control the amount of light that is cast across an area. We can go from a targeted pinpoint to a wider range to give as much coverage as you need. Why settle for an off-the-shelf fixture that cannot be adapted to do exactly what you want? Unlike our competitors, our fixtures are American made with materials that are made to last and the highest grade wiring available. Walkways, pathways and sidewalks should allow you and your guests sure footing during the day or night, and our path lights give you a wider spread of light without having to actually use more light. This means you get all the added safety and beauty without it costing a lot or having an obtrusive glare. It's all about the quality of light, and not the amount.
We offer a myriad of options that can match any home and landscape style. Even if your walkways are nothing more than a gravel path that meanders through your garden, a pathway to your pool or stepping stones from your patio to the back of your home—Outdoor Lighting Perspectives of Clearwater & Tampa Bay can make sure you get there safely and delighted. Our light will guide you from one point to the next in an attractive manner on the darkest night, but not be harsh and glaring at the same time. Our lighting designers will make sure your path lights are a cohesive part of your outdoor landscape lighting plan whether it's just a short or long distance.
You can choose from decorative accent lighting that has a sculptural feel and casts a shadowy light with interesting patterns; or a more traditional fixture that provides a more even glow and blends into the landscape. Even if it's a set of stairs leading to your deck or a driveway, we can add appropriate illumination to guide your way. Our architects can help you achieve a beautiful look that does not have the awkward feeling of an airplane runway with all your lights lined up in a row, either. We can stagger the fixtures to give you a more natural moon-lit look too!
You can walk the dog, grab the mail or make your way to your patio with ease thanks to efficient path lighting that uses LED bulbs that offer 50,000+ hours of illumination. There is something magical about standing on your back deck and seeing the pinpoints of light that wander all around your property and having your garden beds lit up by custom path lights. You can make your way to a quiet corner of your yard on the darkest night to enjoy a calm spot with a cup of coffee or simply sit with the love of your life holding hands. Let us light up your trip around your property with high quality path lighting.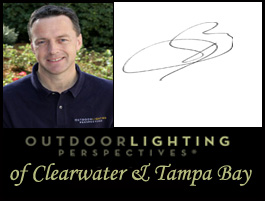 Let Outdoor Lighting Perspectives of Clearwater & Tampa Bay  give you sure footing with path lights by calling us at (727) 785-6000 or (813) 237-0340 or email us at olpclearwater@outdoorlights.com.