Sometimes it is the most simple additions to our home, and landscape, that we take for granted. For example, as outdoor lighting professionals we often listen as prospective clients discuss the grandeur of landscape lighting as a whole. By no means are we downplaying the aesthetics and functionality of professional landscape lighting — however, each element of a good outdoor lighting design unifies as one to make up the "total effect" and in many cases it is the small touches that make all the difference.
Professional path lighting serves as the perfect example of one of the most "hard-working" and efficient outdoor lighting genres that make a huge impact on how you use your outdoors in the evening. Path, sidewalk and walkway lighting not only adds a tremendous amount of ambiance to your outdoor setting, it also makes it safe for you to enjoy your property effortlessly after dusk. Path lighting improves visibility in all the areas you frequent at night; the path from the driveway and to the front door; the stairs onto your front porch or stoop; the stepping-stones that lead to your children's play area in the backyard; and yes, even around the traffic areas leading to your backyard pool. All of these areas, and many more, are illuminated for your disposal and enjoyment each and every evening.
With the aid of light provided through path lighting you can easily traverse your property without worry of an accident, from elevation changes within your landscape and outdoor living areas, to being able to see debris leftover from a storm, or even a snake in your path. You can rest assured path lighting from Outdoor Lighting Perspectives of Clearwater & Tampa Bay is  working for you every evening, without fail, in order to address and act on any issues that "cross your path."
Path lighting has the ability to guide you safely and effectively to the front of the house or to your backyard entertainment areas. When it comes to non-professional outdoor lighting installers, or do-it-yourselfer, path lighting is by far the most over-used (and abused) outdoor lighting fixture which can result in a runway look.  Well-appointed path lighting is all about "quality" and not "quantity".  When path light is properly installed, it should emit a circle of light up to 15 feet to achieve the desired effect.
All path lighting fixtures from Outdoor Lighting Perspectives of Clearwater & Tampa Bay are made to provide years of function and beauty because they are constructed of long-lasting copper and brass. Such materials have been used to craft maritime equipment for centuries because they are resistant to corrosion. Our fixtures are constructed with longevity in mind and will become even more beautiful with age as they develop an elegant patina finish. They are also made here in the United States.
The paths we walk are important. They lead us home, guide us through natural beauty, and usher us into the places we can relax and be ourselves. Be sure that these areas shine with understated elegance by choosing the very best path lighting, ours!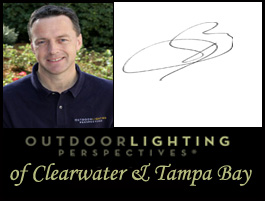 Contact Outdoor Lighting Perspectives of Clearwater & Tampa Bay today to learn more at (727) 785-6000 or (813) 237-0340 or email us at clearwater.outdoorlights.com.