Have you ever visited a friend or family member for the first time in a community or subdivision you aren't familiar with? It is true that today's technology makes "finding" their home a little easier with the luxury of GPS — but, trying to find a new neighborhood in the evening can be tricky nonetheless. You want to exercise caution while driving, but in many cases pinpointing the exact location can become a cat-and-mouse game of having to revert to your smartphone.
I was recently invited over for dinner by a dear friend who had just moved into a new home, in a new subdivision here in Tampa Bay. I was not personally familiar with the location, so I needed directions. I punched the address into my smart phone, and set off for my visit. Like clockwork, my GPS routed me correctly turn-by-turn. With just one final turn left to reaching my destination into the neighborhood, unfortunately the moon was shrouded behind some clouds that evening and the entrance to the neighborhood was not lit. This caused me to miss my turn, pull over and call my friend to confirm the location. The missed turned made me 15 minutes late, and could have been avoided had the neighborhood entry signs been properly lit.
Neighborhood visibility is important for visitors and homeowners alike.  Here in Clearwater and Tampa Bay we have been asked by many Home Owners Associations (HOA's) for lighting consultations for new installations at a dark entrance, or to upgrade an entrance dimly lit with old fixtures, worn out bulbs and bad wiring.
Improving the safety of a neighborhood entrance is vital, but making your community more appealing in the evening is also important. Professionally designed and installed outdoor lighting within a community makes a lasting first impression with prospective homeowners. We specialize in creating a memorable outdoor lighting design for your neighborhood's entrance, community centers and even amid the landscape that is prevalent within the common areas of your neighborhood.
The entrance to your neighborhood is meant to welcome residents and visitors all year. Along with entry, landscape and architectural lighting we can also illuminate your neighborhood during the holidays to enliven the warmth and holiday spirit of your community!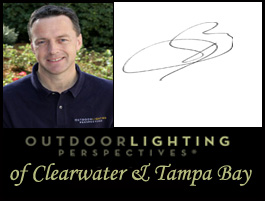 First quarter is when many community HOA committes meet with homeowners to discuss recommendations and upgrades for the coming year. Now is the perfect time to evaluate the conditions of your neighborhood entry, common areas and clubhouse. Contact Outdoor Lighting Perspectives of Clearwater and Tampa Bay to learn more about community outdoor lighting. We can design, install and maintain all your lighting needs!
You may reach us at (727) 785-6000 or (813) 237-0340 or by visiting clearwater.outdoorlights.com
"We help people enjoy their outdoor living experience after sunset by adding beauty, safety & security."