We all have one or more elements of our landscape that are truly special. Whether it is a beloved statue overlooking your garden, patio courtyard, backyard gazebo or even an ethereal fountain by your pool — these are items that beg for attention both day and night. If you wish to highlight a single item in your landscape like a statue, gazing ball or fountain, you should consider focal point landscape lighting fixtures. By placing these at various angles and distances, you can achieve an effect that is sure to get noticed!
Our outdoor lighting designs go beyond lighting just the façade of your home and landscape, we take each appealing aspect of your property into consideration by pinpointing the unique artistic elements and structures around your property.  This increases the opportunity for homeowners to enjoy all the aspects of their landscape even from inside the home looking out the window. Why shouldn't you be able to gaze out at a fabulous metal sculpture or charming pergola lit up in the dark instead of losing it to the blackness of the night?
Outdoor Lighting Perspectives of Clearwater & Tampa Bay can masterfully highlight all the special features on your property. Take a look at a few stunning examples of lighting designs that enhance the form and functionality of these special landscape features.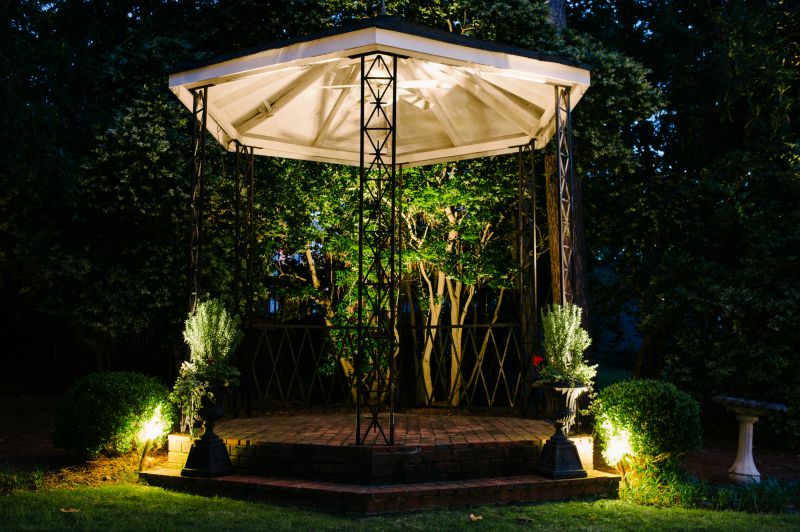 This simple yet stunning iron gazebo has been given new life with the addition of landscape lighting. Up lighting was used to highlight the details of the iron filigree while still illuminating the space itself creating the perfect spot to host guests at night.