Though we may not have reached the summer solstice, Memorial Day has come and gone, so I believe it's safe to say, it's summertime. Summer is the season of backyard pool parties, more time with the kids, and days at the beach covered in sand. And while you already knew that summer was the time for all of this, did you know that home sales increase this time of year too? I'm sure there are many studies conducted to determine why this is true, but it could be just as simple as the weather. It's easier to relocate when the weather is nice. If you are looking to sell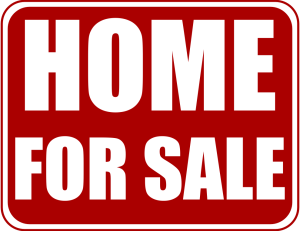 your home, you want its very best features showcased, and even if you're not planning to sell, you want your home to be attractive to the eye. No one wants to be the dull house on the block. Instead, you want your home to pop out from the rest and be memorable, and there is no better way to create that impression than with outdoor lighting.
Outdoor lighting can bring the curb appeal you need for a sale. It is the improvement that makes a lasting impression on buyers as soon as they turn the corner onto your street. With elegant fixtures bathing your architecture, palms, and gardens in beautiful, natural light, potential buyers will want to call your property home, and they will have a hard time walking away from it. Outdoor lighting will not only make the property safer and more striking, but it will also create mood and tone that cannot be duplicated by any other home improvement. And while buyers will want to personalize their new property, they will certainly want their friends to be impressed from day one. A design from Outdoor Lighting Perspectives of Clearwater & Tampa Bay will give that dazzling first
impression your property needs and add resale value.
If you are purchasing a home rather than selling, you will probably be making changes to your new home. Often, new home improvements begin with landscaping – adding new foliage plants, creating paths with pavers, or mulching around palms. Consider adding outdoor lighting while you are making landscaping improvements. If you do this, it will be easier to position lights and best optimize your new system. Our designers can work with your landscape designers to ensure that you get the best outdoor experience for your new home.
So this home buying season, be sure that you are taking advantage of all the benefits outdoor lighting has to offer – whether you are selling or buying. Contact Outdoor Lighting Perspectives of Clearwater & Tampa Bay today. We will bring lights to your property at dusk, so we can show you first hand the difference outdoor lighting make on your property.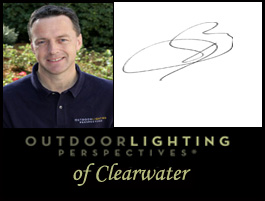 Robert van der Putten, Owner
Outdoor Lighting Perspectives of Clearwater & Tampa Bay
727-785-6000 or 813-237-0340
email: olpclearwater@outdoorlights.com
Visit our landscape and garden lighting photo gallery on our website to see what our outdoor lighting can do to increase the value of your home.