Once again, Valentine's Day is right around the corner, the day we celebrate who and what we love. Despite all the pressure our culture puts on us during this time to do something amazing, don't get stressed out. While fancy dinners and elaborate surprises are wonderful, often the moments we remember most are the quiet ones when it is just us and the one we love. These quiet moments are often best enjoyed at home, with an intimate dinner, quiet music, deep conversation, and beautiful lighting. Here in the Clearwater and Tampa Bay area, we are lucky enough to enjoy mild weather this time of year, so a romantic dinner on the lanai is a perfect beginning to the perfect evening. And while you could capture beautiful lighting with many, many candles, the risk is substantial. So instead, let Outdoor Lighting Perspectives of Clearwater & Tampa Bay set a beautiful, safe mood with outdoor lighting.
Imagine your loved one stepping out onto the lanai to be greeted by dinner, homemade by yourself. The soft, warm light catches in garden foliage as you both breathe in the cool night air. After dinner, you go for a walk in the garden. Dramatic uplighting highlights the massive leaves of your royal palms, and the brilliant color of your flowers dot the greenery. Along the walk, path lights spill a warm glow in the footpath and into the adjacent flowerbeds. At the gazebo, you pause hand in hand and watch the stars. The water feature gurgles and splashes, and the falling water throws golden light rays in all directions. At last, you return indoors.
Such a night is possible with several different types of outdoor lighting offered by Outdoor Lighting Perspectives of Clearwater & Tampa Bay. Working together, they have the ability to transform your property. Fixtures placed with purpose in precise locations help you see your outdoor living spaces and gardens differently. The result is enchanting, romantic, and perfect for your loved one. Even if there is not enough time for us to design and install a system for you before Valentine's Day, romantic evenings are welcomed any day of the year, and for those we love, we should probably try to do something special more than once a year.
Make the night amazing for your favorite person and give the gift of beautiful light and outdoor nights all year long. With Outdoor Lighting Perspectives of Clearwater & Tampa Bay's expertise, your romantic night will be a success even if you're not the best in the kitchen. Contact us today.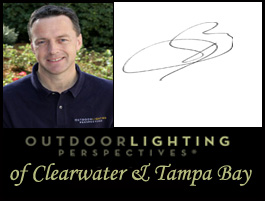 Robert van der Putten, Owner
Outdoor Lighting Perspectives of Clearwater & Tampa Bay
727-785-6000 or 813-237-0340