While there are many tasks you perform solo, working as part of a team has many benefits – different perspectives, knowledge of assigned tasks, and (hopefully) a faster result. These principles apply when you are engaged in home improvement, especially outdoor improvements where outdoor lighting is involved. Often homeowners spread a project out over time. For example, they will install a pool. A few months later, they will add a deck, and even further down the road, they add outdoor lighting. They focus on one aspect of the project at a time. However, if possible, Outdoor Lighting Perspectives of Clearwater & Tampa Bay encourages you to get all of your contactors involved in the project together. Approaching an outdoor living addition or modification project as a whole has benefits.
Collaboration – When various components of a project are installed separately, work must often removed or altered and subsequently redone. For example, if you are installing stone pillars and walls around pool or patio area, you will probably want outdoor lighting installed. If your mason does not know this, he/she may not install conduit for wiring when the column is constructed. However, if your mason and your outdoor lighting designer can collaborate, your new column won't have to be drilled to create this space.
Possibilities – Positioning is essential to most components of an outdoor living project. Allowing your contractors to communicate allows everyone to participate in creating an overall effect rather than each creating his/her own and hoping it comes together in the end.
Minimal Down Time – One of the hardest parts of a project is dealing with the mess until it is completed. By having multiple contractors involved at the same time, your property won't be in disarray quite so long. If landscaping is completed then outdoor lighting is installed, your yard will be a mess twice rather than just once.
Connections – Outdoor living professionals know each other because we work on many of the same projects. We are involved in trade alliances and can put you in contact with other contractors to help you finish your project. Examples include landscape architects, pool companies, outdoor kitchen experts, and sculptors, just to name a few.
No, your outdoor lighting designer isn't going to tell your paver how to lay the walkway, and the contractor installing your waterfall isn't going to tell your outdoor lighting designer where to set lights. However, each contractor can communicate his/her needs, and that can make a huge difference in the efficiency of your installations and the look of the end product.
If you are about to begin an outdoor living project, contact Outdoor Lighting Perspectives of Clearwater & Tampa Bay even if your backyard is still just an open space of grass. The sooner we are involved, the smoother the process will go, and we may even be able to put you in touch with someone else you need. Call us today!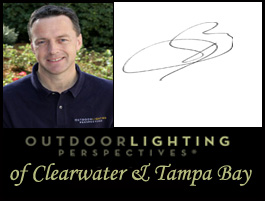 Robert van der Putten, Owner & Father
Outdoor Lighting Perspectives of Clearwater & Tampa Bay
727-785-6000 or 813-237-0340