August is not just the last month of summer, it has also been designated as the official month for such diverse topics as: curb appeal, catfish, family fun, golf, eye exams, picnics, peaches, water quality and romance awareness. At Outdoor Lighting Perspectives of Clearwater & Tampa Bay, we wondered how many different ways we could celebrate the dog days of August with Tampa Bay outdoor lighting.
In August we have about 13 hours of natural light to show off our homes and light our paths, but that decreases by about a minute and a half each day as we move from summer into fall and winter. If you want to enjoy your outdoor living spaces to the fullest, you would be wise to consider the benefits professional Tampa Bay LED outdoor lighting. Outdoor lighting systems offer improved safety and security, in addition to enhancing nighttime curb appeal.
You can kill two birds with one stone if you install LED outdoor lighting fixtures on a dimmer on your porch, deck or patio. You increase your curb appeal and increase your romance awareness. What could be more romantic than an outdoor dinner à deux with artfully designed lighting to cast you and your sweetheart in a warm, appealing glow? Serve grilled peaches with a sprinkling of brown sugar on top and you've also given a nod to National Peach Month.
An evening outdoor picnic by the pool or on the grass is a fun family activity made possible by an energy efficient installation of outdoor lighting that highlights the spaces in your yard that you enjoy most. Put catfish on the menu and you've ticked off three more celebration opportunities. If you have a pool, fountain or other water feature, we can show off your peerless water quality with lighting from below the waterline or above. You decide what kind of mood you want to evoke and we will design the right solution for your project.
A few of our clients have putting greens where they fine-tune their short games. There is no excuse for not lighting an amazing asset like that. For the rest of us, keep your grass trimmed and your yard well lit and almost any yard can be a fun place to practice a chip shot, just stay away from the windows!
We here at Outdoor Lighting Perspectives of Clearwater & Tampa Bay are a pretty creative bunch and almost made it through the entire list of ways to celebrate the many faces of August using professionally installed outdoor lighting, but eye exams totally stumped us. Give us a call if you can think of a way to tie those two subjects together. In the meantime, we would love to show you some of the many ways that Tampa Bay outdoor lighting will improve not only your curb appeal, but how you can make your yard an extension of your home, suitable for almost any activity you can imagine.
For a free in-home consultation to show you the striking improvements expert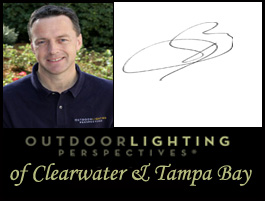 installation of well-designed outdoor lighting can bring to your property, call Outdoor Lighting Perspectives of Clearwater & Tampa Bay at 727-785-6000 or 813-237-0340.