Creating the perfect outdoor lighting solution is all about using the proper fixture with the best design. As award-winning professionals in this field, Outdoor Lighting Perspectives of Clearwater and Tampa Bay is thrilled to have Luminous Accents by Casuwel available for our clients. These exquisitely innovative contemporary light forms will add just the right amount of ambient light to all your evening outdoor activities.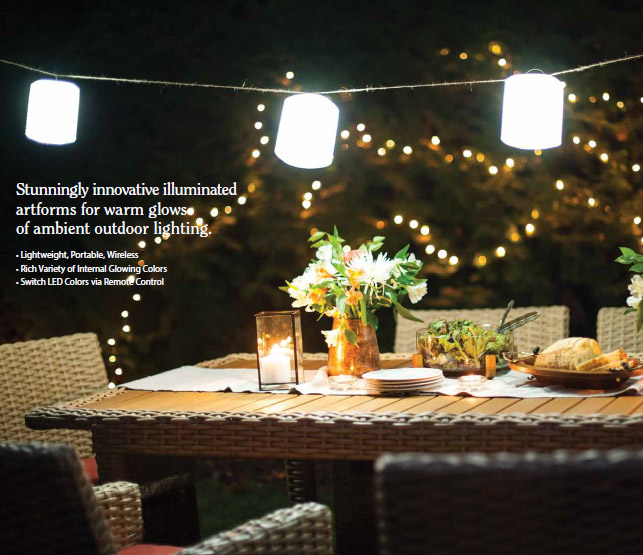 Just like our architectural lighting shows off your home's most desirable features, and our path and landscape lighting safely draws your guests into your luxurious spaces, the Luminous Accents collection has a uniquely shaped piece that's just right for the ambient lighting you wish to achieve. Each piece has the color changing light show capability (easily programmed with the Luminous Remote Control) including 5 different hues: white, blue, green, red and purple and has multiple program options for single color lighting or your choice of color combinations with a gradual transition from color to color. And with no wiring or electricity required, the placement and use of these marvelous accents is limited only by your imagination.  Take a look at this video that showcases the fun color changes available:
The Luminous Accents collection includes:
The Luminous Lantern, with its teardrop shape evenly distributes a soft glow that perfectly casts an inviting arch of light either on the coffee table or by the pool for a late night swim. The convenient top handle makes this lantern easy to move no matter where you need it.
The Luminous Sphere is a 14 inch diameter glowing orb which will set the mood effortlessly as the center piece of your dining table or as a softer lighting accent at the threshold of the door.
The Luminous Vessel is a more durable version of the festive Chinese Paper Lantern. With a 12 inch diameter, 18 inch height and small wire handle, this versatile lamp can be used singularly on a shepherds hook in almost any spot or several can be hung along a line stretched across your patio or deck.
The Luminous Vertical Tower, available in two sizes, XXS (6x6x7 in) and XS (6x6x11 in), resemble pillar candles without the heat and potential fire hazard of a traditional candles, giving them an infinite list of possible uses on tables, stairs, benches or railings.
The Luminous Wine Cooler has a generous 13 inch opening and 17 inch height. Now you can keep the bottle chilled while easily illuminating the table, casting everything and everyone in a romantic glow. Chilling your favorite bottle of spirits has never been so luminous!
Setting a romantic mood for your next quiet evening for two or lighting the night for your best cocktail party ever will be a breeze with this myriad of lighting options from Casuwel. Outdoor Lighting Perspectives of Clearwater and Tampa Bay is your exclusive source for Luminous Accents by Casuwel and all your outdoor lighting system needs throughout the Clearwater, Tampa and St. Petersburg areas. Contact us today, so we can help you light up your nights!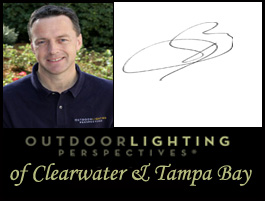 Robert van der Putten, Owner  727-785-6000 or 813-237-0340 email: olpclearwater@outdoorlights.com.