There are many types of gazebos and with each gazebo comes a vast array of possibilities to enhance it with Tampa Bay outdoor lighting. Gazebos are used to provide shade from the hot Florida sun all the while providing an ornament element to your outdoor spaces. Some gazebos are freestanding while others are attached to a deck or patio and come in a variety of shapes and sizes.
Whether you use your gazebo as a cozy, quiet place to escape or a separate outdoor dining area, Outdoor Lighting Perspectives of Clearwater & Tampa Bay has many landscape lighting options that will improve the time you spend under it so you can get the most out of your investment. Here we talk about three very different lighting options that may work for your gazebo, trellis or pergola.
If lush, tropical landscaping surrounds your structure, you probably want to incorporate the foliage in your outdoor lighting plan. Uplighting on the landscaping around and on the structure can enhance the space without becoming the focal point. Well lights or our LED stick light, which fits in small spaces but gives off a powerful source of light while remaining energy efficient, is a perfect choice. A warm wash of light is provided while the Tampa Bay outdoor lighting fixtures blend in beautifully with the landscaping.
String lighting or our new café lighting can create a romantic feel to your gazebo or structure when hung across the roofline and even wrapped around the sides. While string lighting has often been used on gazebos, our café or festival lighting has larger bulbs that give a more unique look while not being too overpowering.
A third type of lighting was used on a recent gazebo installation we just completed. The Tampa Bay sconce outdoor lighting fixture is the perfect fit for just about any type of gazebo. The copper LED sconce light is typically mounted on a post or wall and it provides ambient light up and down simultaneously. Because of the way these pillars happened to be installed, we added a copper plate across the two and secured the sconce light to the plate.
Those are the types of solutions you will find when working with a professional outdoor lighting company like Outdoor Lighting Perspectives of Clearwater & Tampa Bay. Because of our experience in outdoor lighting, we have and can continue coming up with unique solutions to give you the best Tampa Bay outdoor lighting design for your spaces. If you have a unique outdoor lighting dilemma, give us a call. I bet we can come up with a solution you will love night after night.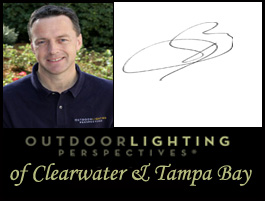 Robert van der Putten, Owner
Outdoor Lighting Perspectives of Clearwater & Tampa Bay
727-785-6000 or 813-237-0340