Are you ready for dark, spooky nights? Even though all of the little goblins and ghouls will be back in hiding this Sunday, darkness will be creeping up on us earlier and earlier. Daylight savings will fall back at 2am this coming Sunday (November 2nd), which will put you coming home from work to a dark house. No one cares for this scenario. It's hard to see, you fumble with the lock, and your property just seems so cold. But even though longer nights are here for a while, you don't have to stumble around in the dark. Outdoor lighting can provide the visibility and welcome you want when arriving home, and Outdoor Lighting Perspectives of Clearwater and Tampa Bay's innovative lighting timers can make this lighting automatic.
You may already know that timers can make outdoor lighting easy. Rather than having to turn your system on and off, the timer can do it for you. However, problems arise when daylight hours change and when Daylight Savings Time effects sunset time. Traditional timers have to be reset, and often the homeowner's reminder of this is coming home to a shadowed property. As changes are made so infrequently, it is easy to forget how to even go about changing your timer's settings. Fortunately, our timers are a little smarter than average. Our astronomical timer automatically adjusts for Daylight Savings with no effort on your part, and it will even adjust for variations in sunset time at your home. We simply enter the GPS coordinates of your property, and your outdoor lighting system can be programmed to turn on at sundown in your precise location. Once this is configured, no further adjustments are needed, even when the sun begins to set earlier in the evening.
Lighting Control Automation (LCA) has all of the automatic features of the astronomical timer but also incorporates greater control of all the electrical circuits in your home. With LCA, electrical circuits are set up in zones. This includes your exterior lighting, interior lighting, and other electrical appliances, like your television or heating/cooling system. Perhaps you want to conserve energy by turning off your heating/cooling system while you are at work and the kids are a school. With LCA, you can program it to turn off after everyone has left the house and turn back on a couple hours before you return so the temperature can normalize. If you and your family are away for the holidays, you can program your exterior and interior lights to turn on and off in patterns that mimic your normal ones. That way, thieves and vandals won't realize you're away from home. And yes, there is an app for that! You can control your LCA from any smartphone or tablet, so you can make changes even if you are away from home.
The Daylight Savings time shift may add hours of darkness to our evenings, but it doesn't have to add hours of darkness to our properties. If you are tired of attempting to reset your outdoor lighting timer, call Outdoor Lighting Perspectives of Clearwater & Tampa Bay today. We're sure we can find the right timer solution for your outdoor lighting system.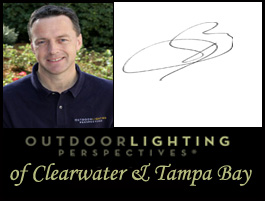 Robert van der Putten, Owner
Outdoor Lighting Perspectives of Clearwater & Tampa Bay
727-785-6000 or 813-237-0340