In just a little over two weeks, little goblins and ghouls will be running through our neighborhoods energized by the bags of sugary, chocolaty treats they carry with them. Even now, nights are getting longer in preparation for all the spooky fun. Then, right after Halloween is done, the Daylight Savings' fall back will leave us in the dark for many more of our waking hours. Though fall's mild temperatures are welcomed here in the Clearwater and Tampa Bay areas, our properties, landscaping, trees, and outdoor spaces become shadowed and creepy unless you have outdoor lighting.
During the spring and summer, the Florida sun bathes our landscape in beautiful, warm light well into the evening hours, but the further we get into the fall season, we have fewer of these hours each day. In order to enjoy your property when you return from work, you need outdoor lighting. Just imagine being able to walk through your garden after work this November. Warm light illuminates your palms, shrubs, and pathways. Dramatic uplighting accentuates your sculpture. You can breathe in relaxation in this beautiful elegant space and don't have to worry about tripping because of poor visibility.
In addition to hosting Halloween, October is also National Outdoor Lighting Month. It is an effort dedicated to informing homeowners about the transformative effects of outdoor lighting, especially if that outdoor lighting is designed by a professional. These effects can be most clearly seen in the fall because nights are so much longer than they are any other time of year. Whether you have an outdoor lighting system or not, October is the perfect month to explore how outdoor lighting can change the way you and others look at your property. Rather than being cold and spooky, your home and gardens can shine with warmth and welcome that your friends and neighbors will find magnetic.
From garden lighting to holiday lighting and special event lighting, Outdoor Lighting Perspectives of Clearwater & Tampa Bay can give you the ability to make incredible memories in your outdoor spaces this fall. Download our free guide to holiday, festive, and special event lighting. Then, give us a call. Whatever your needs are this season, we can help you create the perfect atmosphere for all of your events and your quiet evenings at home with the family. Don't wait. October is almost half way over already!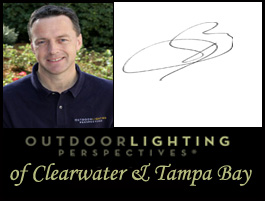 Robert van der Putten, Owner
Outdoor Lighting Perspectives of Clearwater & Tampa Bay
727-785-6000 or 813-237-0340